Our top tips on how to get your Google Analytics Individual Qualification
Posted 4 months ago
Once you have mastered Google Analytics for Beginners, you will be ready to begin the Advanced Google Analytics course. You may have already read our last blog post on Google Analytics for Beginners and are now ready to take the next steps. If that's the case you've come to the right place for all the best tips on how to pass the all-important, Google Analytics Individual Qualification.
This second course consists of 4 units that teach you how to create and use Custom Dimensions, Custom Metrics, and Event Tracking to collect more specific reports for your business. While Analytics will automatically track a whole host of data from your website, as your business grows, you may want to collect more specific data. For instance, you could track all users who spend more than £50 in 1 session, or users who interact with a video before they convert and make a purchase.
Having access to these specific data sets allow you to utilise more advanced analysis techniques to create more detailed reports which you can then use when putting together future campaigns. Once you have split your users into separate audience groups, Google will also demonstrate how you can build remarketing and dynamic remarketing strategies. These strategies use the data collected to target specific audience groups with Google Ads who have shown an interest in a particular product but never converted.
The units follow the same format as the beginner's course but also include some useful demo features. After watching the videos that discuss the content of each lesson, you are directed to click on a link for a Google Merchandise Store demo account. This gives you an opportunity to practice using Analytics to access certain reports and specific sets of data. As seen in the image below, you will find a few questions that check you understand how to navigate the demo account and read the correct data.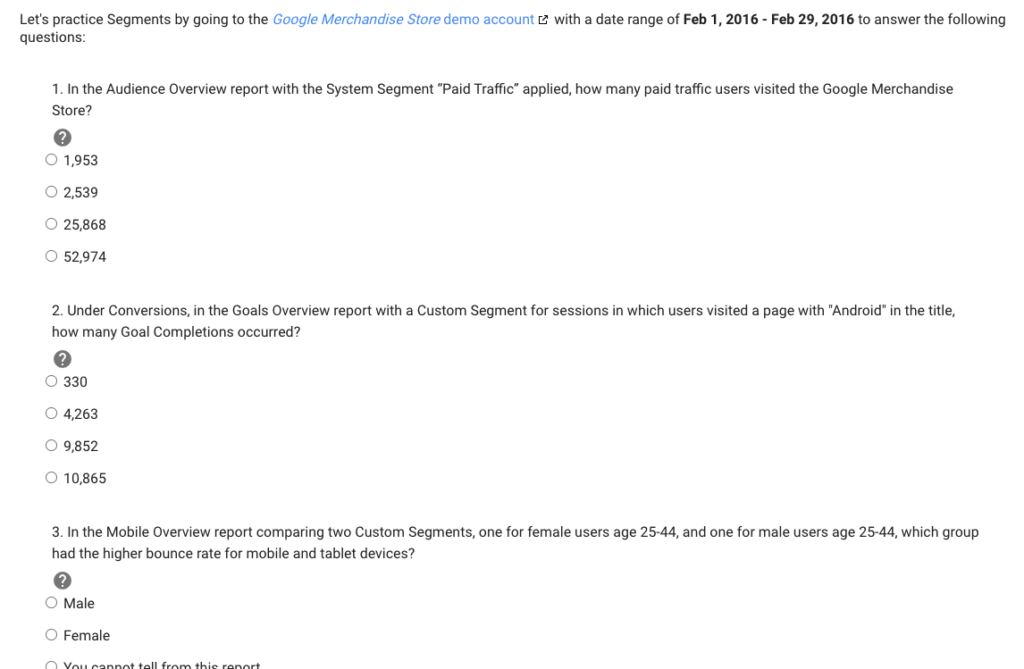 Once you have completed all the short demo questionnaires and end of unit assessments with a minimum mark of 80%, you will have successfully completed the course and receive your Advanced Google Analytic Certificate. You are now ready to take your final Google Analytics Individual Qualification! The beginner and advanced courses aim to prepare you for all you need for this next exam however, I would recommend taking notes and referring back to these and refreshing your memory on topics from both courses.
The exam comprises of 70 questions in the same multiple-choice format as the previous assessments you will have already completed. Google gives you 1.5 hours to complete all 70 questions which will be more than enough time but be warned – your time will start running once you click on the link for the exam so make sure you do not click the link until you are ready to sit the assessment. You will need a strong internet connection and someplace quiet where you will not be disturbed for at least an hour. The questions are all very similar to ones you will have answered already so you will not be surprised by anything new, but you can always keep your notes to hand to refer to during the assessment if it makes you feel more comfortable.
If you've completed it with 80% or higher, then congratulations! You've passed! Google Skillshop will take you through to your Google Analytics Individual Qualification Certificate. This course is widely recognised, so once you have passed, you can add the certification to your LinkedIn profile and share the news!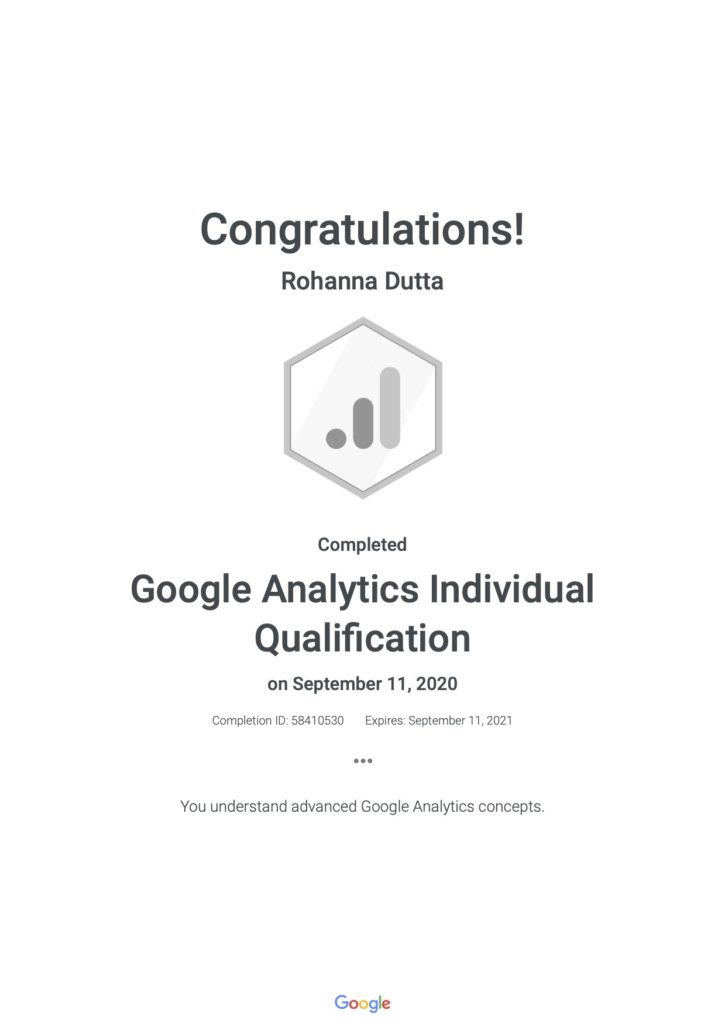 However, the qualification only certifies you for 12 months which is testament to how quickly Google updates and develops its features on Google Analytics. To keep the certificate valid you will need to retake it every year but after using it to help boost your business for 12 months, you're sure to be a Google Analytics whiz when the time comes to renew it.
Are you interested in boosting your business with Google Analytics, Google Ads, or Google Shopping? We are a Magento eCommerce Agency based in Hertfordshire, who specialise in helping eCommerce businesses to increase online sales and leads through a variety of marketing channels. Here at Ad Lab, we make data-driven decisions to pinpoint opportunities specific to your business.
Get in touch today by calling 01279 655187 or emailing info@adlab.co.uk.
Partner with a reliable &
experienced agency
Enter your details & we'll be in touch to discuss your project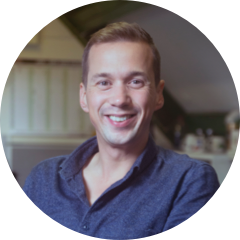 david@adlab.co.uk
01279 655187