A step-by-step guide to setting up your Google Search campaign
Posted 3 months ago
Every single day 3.5 billion searches are made using Google. A Google Search Campaign allows you to harness this traffic to boost the visibility of your business, increase traffic to your website, and generate more online sales!
In Google Ads, you can create a Google Search Campaign that allows your business to appear alongside other search results when potential customers are looking for products or services you offer. As such, your ads only target people actively searching for your specific products and services, which makes them highly relevant, even more so than other ad types.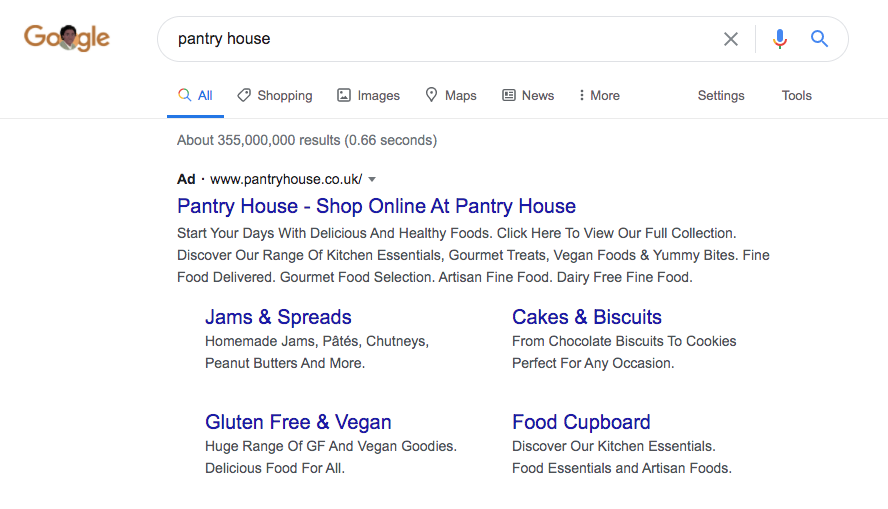 Create Your Campaign
You can set up your Search Campaign easily in Google Ads by first selecting your marketing goal. This should be based on what action you would like your customers to perform. If you have an eCommerce business, your goal would generally be sales, but other businesses may prefer to broaden their reach, brand awareness or focus on generating leads. You then select a campaign type, which in this case will be Search.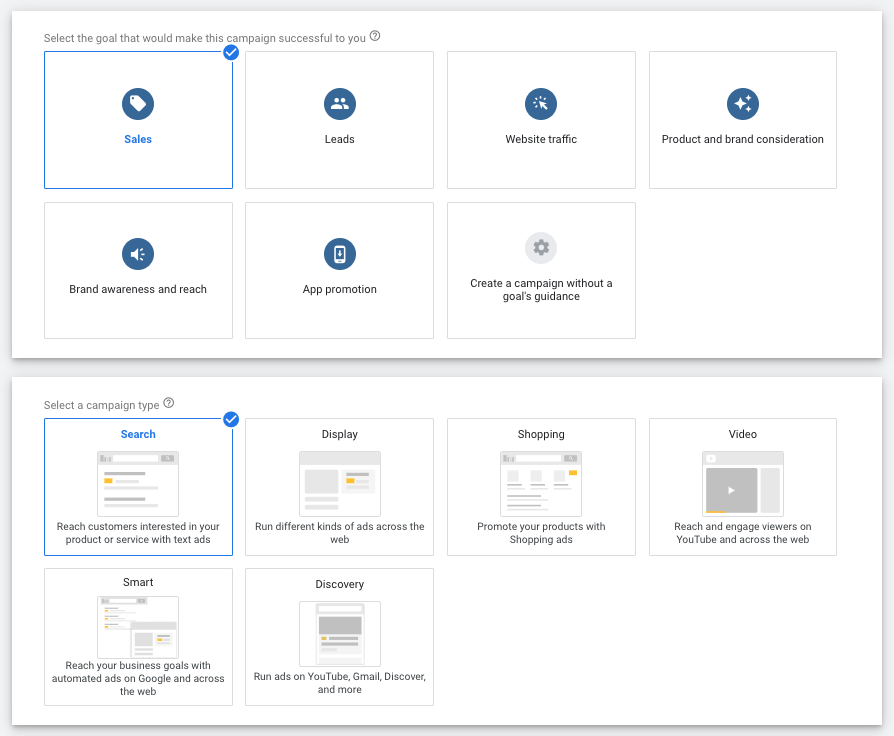 Once you have saved and continued, you'll have the option to check a box to push your ads to appear on Google's wider search and display network, this includes YouTube, Amazon and many others. If you want to only show your ads on the search engine results page (SERP), you can leave these boxes unchecked. You will also have the option to refine your audience by location and language, for instance, you could serve your ads to only target customers in the UK who have their browser set to English.
Lastly, set your daily budget and select your bidding strategy. The bidding strategy you select will depend on your specific marketing goal. If you want to increase sales as your goal, you will want to select the conversion-focused bidding strategy. This strategy will tell Google that you want to funnel your daily budget into, serving ads to customers who are likely to convert and make a purchase. However, if you want to increase website traffic, you could choose the maximise clicks strategy, which tells Google you want customers to click on your ads taking them to your website.
Set Up Ad Groups
Your campaign has now been created but you still need to set up your ad groups. One ad group can contain more than one ad for a set of related keywords. To begin setting up your ad group, you will need to give it a name and set some keywords and phrases that will trigger your ad. If you are struggling to think of keywords, Google will helpfully put a keyword list together with some suggestions based on your business' homepage. You can set your keywords as broad, phrase or exact matches.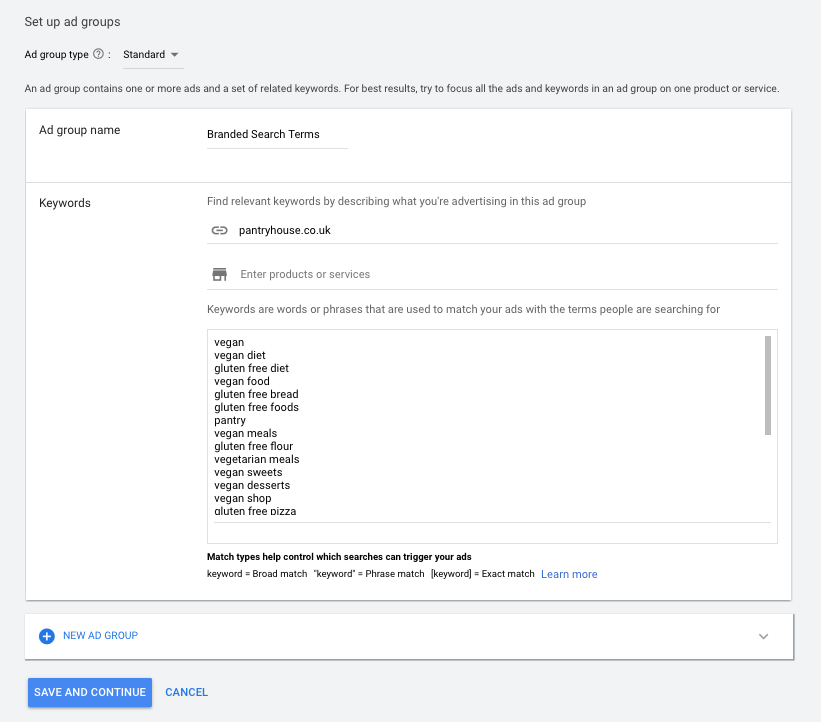 Create Your Ads
Google recommends you to create at least three ads for each ad group, but you can create more if you wish! Google will prompt you to create two text ads and one responsive search ad. The text ad uses your headlines and descriptions and displays them exactly as you have written.
Your responsive search ad will allow you to write up to fifteen headlines and four ad descriptions for a single ad. Google Ads will assemble the ad for you, and over time, after testing various combinations with different headlines and descriptions, Google will find the best arrangement that returns the highest number of clicks or conversions. You should always create a responsive ad to work alongside your text ads as it gives you more flexibility, relevance and reach.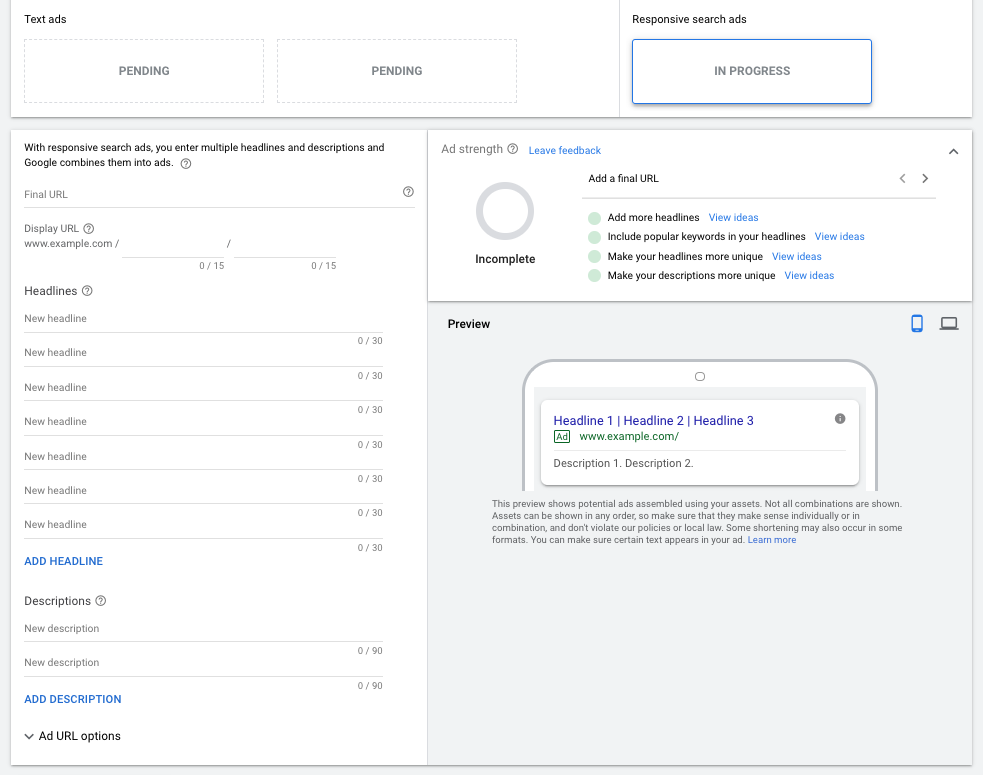 Optimise your Campaign with Ad Extensions
There are many ways you can optimise your ads, but I would recommend using ad extensions. Ad extensions appear underneath your text ad and allow you to take up more real estate on the SERP. By adding extensions, you can make more information available for your customer before they click on your ad.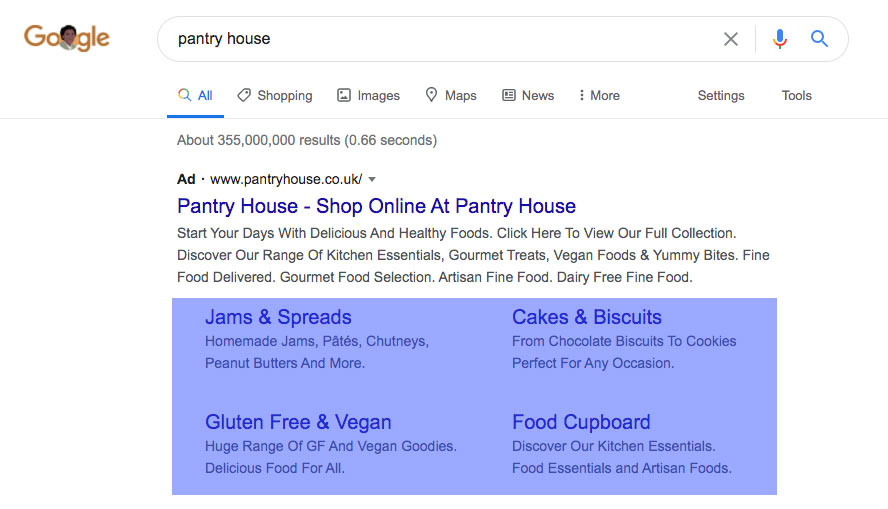 Best practice is to use at least four extensions for each campaign or ad group because Google is then more likely to serve your ad as it may be more relevant to a customer's needs. Choosing the right ad extensions for your business is key to improving your ad relevance and, in turn, increases user click-through rate (CTR) hence boosting engagement.
There are three universal extensions everyone should be using to enhance their search ads; site links, call out extensions and structured snippets.
Sitelink Extensions
Sitelink extensions are direct links to specific sections of your website that appear directly below your text ad. In the above example, the additional site link extensions are 'Jams & Spreads', 'Gluten Free & Vegan' and so on. This helps to improve your CTR because it enables your customers to go directly to your dedicated snack page without having to navigate from your website homepage to find the products that interested them.
Callout Extensions
If your business has a lot of market competition, callout extensions allow you to highlight value-adding attributes that differentiate you from your competitors. These are short terms or phrases up to 25 characters that are easy to implement and can boost engagement with your ad. These can be used to highlight your business, i.e. 'Fine Food Delivered' or point out a special offer 'Free Delivery over £50'. The ideal callout extensions are brief, appealing and distinct to entice a customer click.
Structured Snippet Extensions
These extensions work similarly to callout extensions but rather than highlighting what makes your business unique, structured snippet extensions emphasise specific attributes of the products you offer. For example, a travel agency could list destinations they offer, or a hotel could list specific amenities available. The same principle of callout extensions applies here, with the aim of a structured snippet to provide additional information to attract more customer clicks.
Other Extensions
While the above are three types of ad extensions you can utilise for your Google Search Campaign, there are many more available! You could also use location extensions to drive foot traffic to your physical store; call extensions to invite potential customers to call your business; price extensions to let customers know immediately how much your products or services cost; or app extensions which make it easy for customers to install an app immediately.
Finally, Let Your Ads Run!
Once you have set up your Search Campaign and successfully created your ad groups and the ads within it, it's time to let your ads run! From the moment your ads start running, Google Ads will start to collect data on the volume of impressions, clicks, CTR, average CPC, conversions and conversion rate.
You can keep tabs on them in your Google Ads account to check how many clicks your ads are getting or adjust your CPCs or daily budget if you need to. You can use this data to measure the effectiveness of your campaign which is the most important information you can have for when you want to execute another campaign.
Google Search Ads are an easy and effective method to boost visibility for your business very quickly. Although, the success of these campaigns will always depend on how competitive your industry is. If you want to utilise Google Search Ads but lack the specialised knowledge – we are here to help.
We are a London Magento Agency based near Essex who has specialised knowledge in the set-up, management and measurement of Google Ad Campaigns, including Google Search Ads.
Get in touch today by calling  01279 655187 or emailing info@adlab.co.uk.
Partner with a reliable &
experienced agency
Enter your details & we'll be in touch to discuss your project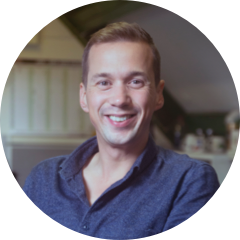 david@adlab.co.uk
01279 655187